How to influence people with "neurocomms"
neuroscience secrets for persuasive communications
According to a quick Google search, 'persuasion' is a form of social influence and often refers to an active attempt to change a person's attitudes, beliefs, or behaviours.
As a Director of a strategic communications consultancy, Lansons, it's my job to help organisations to persuade: persuade consumers to buy a brand's service or products; persuade employees to change their ways of working; or persuade stakeholders to think differently.
So, it's incumbent to be equipped with all the tools and hacks that are out there to make sure a message gets heard, and acted upon, by the right people. That's why in this opinion post, I'll be outlining key neuroscience facts to know and leverage for really persuasive, effective communications.
Let's start off with something that you will no doubt have experienced: we are not good at being told what to do! A more effective technique, as suggested by Nelson Mandela: "It is wise to persuade people to do things and make them think it was their own idea."
In 'Why We Do What We Do' – authored by Dr Helena Boschi, a psychologist specialising in applied neuroscience – we look at Robert Cialdini's* work on the six principles that drive any new behaviour: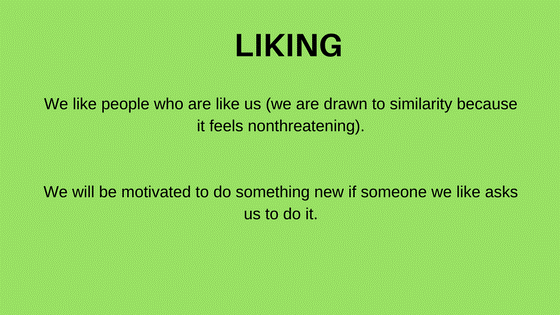 [*source: Cialdini, R. 2007. Influence: The Psychology of Persuasion. New York: Collins]
So where does this leave us?
By applying neuroscience to communications, to what we are calling 'neurocomms', you can make sure that your message is persuasive and emotionally arousing enough for people to want to tune in, above the infinite sea of noise.
We had our first Neurocomms Masterclass in February, which looked at applying neuroscience to get the best from change and communications programmes. Some of the feedback we received:
"The course offers a bite-sized insight into the fascinating world of the brain and how it responds during times of change. The course has given me insights that I can use when advising on change comms and leadership scenarios"
Yvonne O'Hara, Head of Internal Communications, Metropolitan Police
"Wow, just wow! A great opportunity to learn more about the mind and connect this with the world of communication. It's really challenged me to thinka bout the value I can bring to my organisation in a multitude of ways"
Charlotte Cook, Head of Change & Engagement Comms, Simplyhealth
"A fascinating tour of the human state and how having a better understanding of that can transform the way messages of change are perceived and acted upon"
Caroline Rheubotton, Internal Comms Manager, Baker McKenzie
Our next Neurcomms Masterclass is Tuesday 22nd May. Places are limited so book ahead to avoid disappointment.
To learn more about neurocomms, Suzanne Ellis and Lansons, please visit www.lansons.com, a member of the GCP network in London.